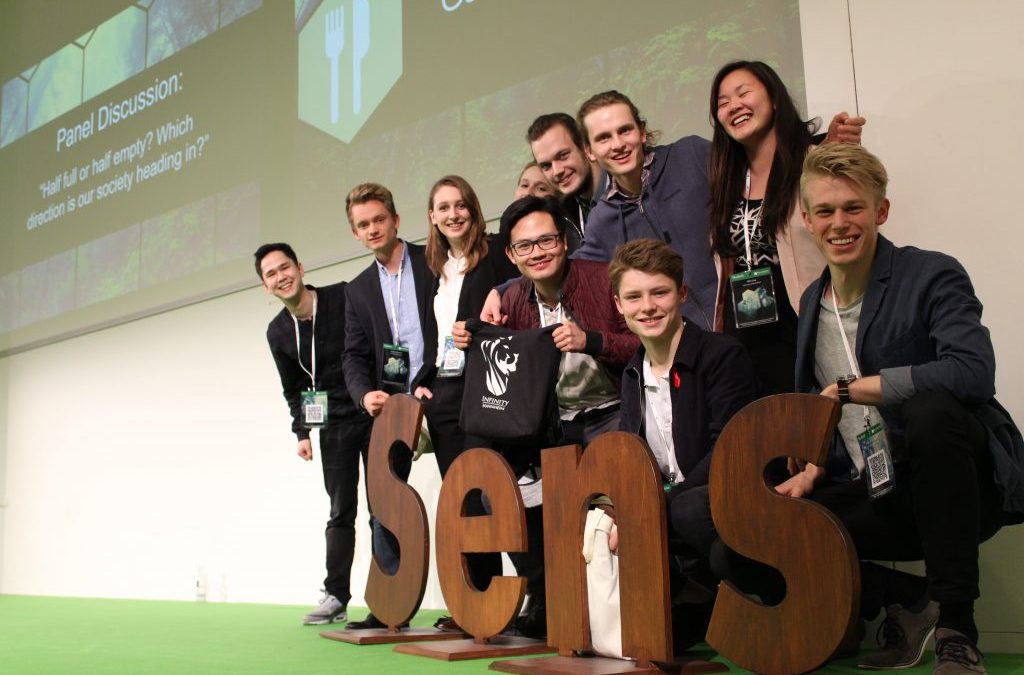 SensAbility – the WHU Social Conference
On Thursday night last week, we arrived in the small but charming town of Vallendar, located in the heart of the famous Rhine Valley close to Koblenz. We were kindly welcomed at SensAbility on the WHU – Otto Beisheim Business School Campus. Since 2009, the university hosts the biggest student-led conference on Social Entrepreneurship in Germany which takes place every year since 2009. We are very thankful that we got the chance to be part of this unique event, and would like to share some of our insights of these two special days full of inspiring speeches, interesting workshops and engaging conversations with people from all over the world.
"You need to be selling, not just inventing." – Lily Liu, PublicStuff

"We need to stop FOLLOWING the system, because we are the people, and we are FORMING the system." – Paula Schwarz, Startup Boat
"Never edit the purpose, but edit how you fulfill it." – Tom Szaky, TerraCycle

"We need to improve democracy through technology." – Vlad Radu, Associata

The first day started with a luscious and pleasing breakfast and gave us the needed energy for the following day. Satisfied and full of curiosity we listened to the first speech: "Transforming Communities through innovative Technologies" by Lily Liu, founder of PublicStuff, a civic engagement platform designated to promote communication between local governments and residents. The Smartphone App allows citizens to report problems or damages (like a pothole in the road) in their town so that the government is able to react quickly and fix the problem. Her idea was to "rethink government". This wasn't easy at first because it has always been hard to break through the existing system: Lily says that "big changes are often accompanied by big pushback". According to her, there will always be "50 reasons not to change" and that's why innovations require "a few grumpy people", who not only invent, but also sell their ideas. In her opinion, technology is extremely important in taking this step as it has a huge impact on how we are dealing with challenges today.
"We need to work for a digitalization that benefits humanity!" – Nicole Dufft, betterplacelab

Another start-up which used the power of modern technology to change an important issue is Oradian: Julian Oerhlein, founder of the fintech start-up, saw the operational pains which financial organisations suffer to enable financial services for people who can't access the established big banks. These organisations often work paper- or Excel-based only, which slows down customer communication, complicates the maintenance of their data and also leaves the archives highly vulnerable to natural disasters. That's why Oradian is offering an affordable, easy-to-use core banking system. To use that system, their customers only need WiFi and a web browser. Thereby Oradian allows them to concentrate on improving efficiency, reducing costs and increasing client service and outreach. In their workshop we got the opportunity to evaluate Oradian's next market entry with an exciting case study. We learned which factors have to be considered and what has to be taken care of to implement their new system.
"A big problem needs a big solution." – Julian Oehrlein, Oradian
After many impressing workshops the conference continued with the next speech: "Transforming higher Education in Africa" by Audrey Chang, founder of Moringa School. Due to her health condition Audrey couldn't attend the conference in person, but that was no reason for her not to give her inspiring speech. Through Skype we were able to listen to her speaking about her career path and how it is important to "find something that combines what you love, what you're good at, and what pays well". With Moringa School, Audrey provides education in software development, equipping students with the skills they need in order to boost their career in technology.
"Fears are built from within: face them in order to overcome them." – Audrey Chang, Moringa School
After a morning full of overwhelming input, the lunch break on the sunny Burgplatz was great for relaxing and networking with other participants. We were catered delicious, vegetarian burgers by BunteBurger from Cologne.
"It´s already too late – but we can reduce the speed. And we have to do it now." – Torsten Schreiber, Africa GreenTec
More exciting speeches and workshops followed at SensAbility. Another the great speakers who left a big mark was Torsten Schreiber from Africa GreenTec. He told us how he became a Social Entrepreneur and how his children played a part in this process: "With every new child of mine born, my desire to take responsibility for the world – that they are born in – grew ." His solution to achieve more sustainability is the "cradle to cradle" approach, which seeks to create circular production techniques that are not just efficient but are essentially waste free. Thus, Africa GreenTech sells and rents solar containers to enable access to energy to the people in rural areas. There will be an extra article about Africa GreenTec on our blog, so if you're interested, stay tuned!
In a similar fashion, later that day Michael Heider, founder of ProjectTogether, said: "The day is today. You need to develop courage and then just try yourself out". As a platform for volunteering coaches and mentees, the company helps everyone willing to talk about his or her own ideas to be listened to and coached. During the workshop with Michael we discussed the properties of a good coach, and we even got to be coaches ourselves to other participants who told us about their first thoughts on a company. Seeing that it isn't too hard to talk about your own ideas gave us a new perspective on how you can do anything as long as you have the courage to try and be resilient.
The last event on Friday was the much anticipated panel discussion "Half full or half empty? Which direction is our society heading in?", which was moderated by Francisca Fei, SensAbility Alumna. The panel consisted of Ryan Little from Impact Hub, Paula Schwarz from Startup Boat, and Alexander Roland from Entrepreneurs Pledge.
"Communicate, consume and act according to your values: believe in each other because we form the systems." – Paula Schwarz, Startup Boat

One of the key takeaways was that we, the generation Y, value flexibility more than rules, which opens huge possibilities to change for the better. We are also the first generation to expect companies not only to be profitable but to improve society as well.
"The World is changing – it´s up to us to make it a good change." – Resume of the panel discussion
The evening closed with a delicate three-course Gala Dinner in the vaulted cellar of the WHU. Accompanied by good wine, we enjoyed engaged conversations with many extraordinary people.
Saturday
The next day was also full of motivating speeches and workshops. Again strenghtened by a fantastic breakfast, we heard about various ways to make an
impact on our world in order to create a better place. But how can we measure that impact? If we could measure it, would it convince companies to invest more in social projects?
Ryan Little, global business developer and founder at Impact Hub, focused on the more abstract field of measuring social impact for the benefit of an investment. In his workshop we tried to form a mission statement for the SensAbility conference itself, trying to grasp the purpose of such an event. Additionally, we also tried to find KPIs (Key Performance Indicators) such as participant numbers and external interest rates to measure the impact on society and our environment.
Even though there are still many questions when it comes to measuring social impact, the workshop showed that it is in fact possible to present results and come up with ideas to scale the result that investors will have to take into account in the near future.
This morning session with various workshops was followed by another impressive speaker: Tom Szaky, the founder of TerraCycle. He told us about the controversy of garbage in a consumer-oriented world: "Garbage is something we are willing to pay for to get rid of it." With TerraCycle, Tom found a way to oppose this mindset of disposability; his unique business model cooperates with big companies to collect packaging that is usually discarded immediately, yet difficult to recycle. In order to reduce waste and save resources, TerraCycle recycles these collected materials and gives them new use. A prominent example is collected beach plastic that is treated and upgraded to shampoo bottles. Keep an eye on it when in the drugstore the next time. "Eliminate disposability and the idea of waste. In the end, all power lies with the individual consumer power – assume that for every product bought, two more of its kind will be produced, as companies mirror their customers' desires."
Filled with an enormous amount of inspiration from seeing so many amazing people following their ideas to achieve change for the better gives us hope that it will indeed become better. These two encouraging days left a big mark on each of us and we want to send special thanks to the organizers, speakers and all the incredible people that were involved in SensAbility.
Find out more about Sensabilty on Facebook and on their own Website and Blog
---
Über die Autorinnen:
Mila Ong
Public Relations
Mila studiert Medien- und Kommunikationswissen­schaften mit BWL an der Universität Mannheim und ist Teil des Public Relations Ressorts. Sie kommt aus einer kleinen gemütlichen Stadt namens Herrenberg bei Stuttgart, hat sich jedoch schon seit Herbst 2016 gut im Jungbusch in Mannheim eingelebt. In ihrer Freizeit liebt sie es neue Dinge zu entdecken und herumzureisen.
Anna-Josephine Krüger
CSR/SE
Anna-Jo studiert BWL und Anglistik im Master und ist Teil des CSR-Ressorts. Sie war vorher in Frankfurt, liebt Kamele und bereitet gerade ihre Masterarbeit im CSR-Bereich vor.


Sarah Baumjohann
IT & Quality Management
Sarah studiert im 4. Semester BWL im Bachelor, ist Teil des IT Ressorts und engagiert sich neben Infinity in der Politik. Aktuell arbeitet sie als Werkstudentin bei der SAP SE im Bereich Engineering Services and Operations.
Merken
Merken
Merken
Merken
Merken
Merken